Pet Releaf – Edibites
Pet Releaf's organic CBD-infused Edibites contain no chemical preservatives.

What are Edibites and what's in them?
Pet Releaf Edibites are CBD-infused all natural dog treats. They contain no fillers, corn, wheat, dairy, soy or preservatives. You will never find an ingredient, that you can't pronounce, listed on the back of our bags!

Every ingredient is organic. The CBD hemp oil is USDA certified organic and comes from our own proprietary strain, PR-33, grown at the largest USDA certified hemp farm in the United States.

Each regular Edibite contains 1.5mg of CBD, guaranteed.
Each large breed Edibite contains 3mg of CBD, guaranteed.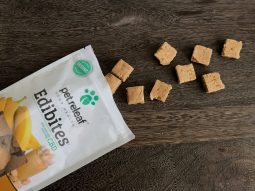 Why should my dog eat Edibites?

CBD is scientifically proven to be one of the most important cannabinoids found in the hemp plant. By giving your dog our Edibites you are allowing your pet's body to reach optimal health levels. You can think of our Edibites as the equivalent of giving your pet a "superfood smoothie" or a daily vitamin supplement. Edibites are beneficial for dogs of all ages, whether they are athletes, showdogs or house pets.

Why are Edibites so hard?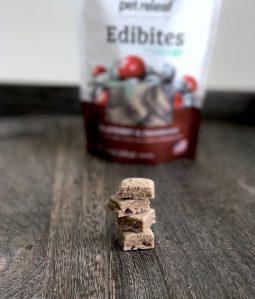 We are often asked why Pet Releaf Edibites are so hard and the answer is simple. Pet Releaf Edibites contain no chemical preservatives. This means that we use all natural preservatives such as honey and vitamin C. Because we use natural and whole food ingredients, our products have a shorter shelf life. In order to increase that shelf life we have to dehydrate our treats so that they last longer. This is what gives our treats a harder texture.

What should I do if my dog's mouth is too sensitive for Edibites?

If your dog is having a difficult time chewing our Edibites we recommend putting a little bit of water or chicken broth onto the treat to soften it up.

How many Edibites should I give my dog?

Because our Edibites contain CBD hemp oil, people often ask what the correct dosage is. The good news is that there are no negative side effects and no contraindications to high dosage of CBD, however, we at Pet Releaf, have worked hard at developing effective dosage guidelines based on your dog's weight.

Pet Releaf Regular Edibites
.
Pet Releaf Large Breed Edibites
Dog weight - Recommended quantity
Regular Edibites, 1.5mg of CBD/treat

up to 25lb………. 2, or as needed
26-50lb………. 3, or as needed
51-75lb………. 5, or as needed
over 75lb………. 8, or as needed
Dog weight - Recommended quantity
Large Breed Edibites, 3mg of CBD/treat

26-50lb………. 1-2, or as needed
51-75lb………. 2-3, or as needed
76-100lb………. 3-4, or as needed
101-150lb………. 4-5, or as needed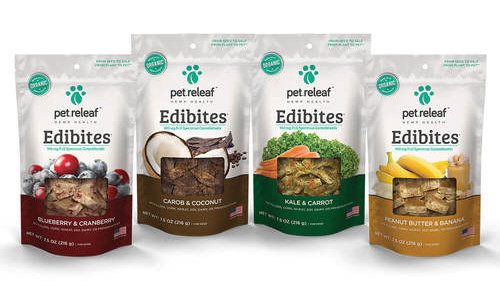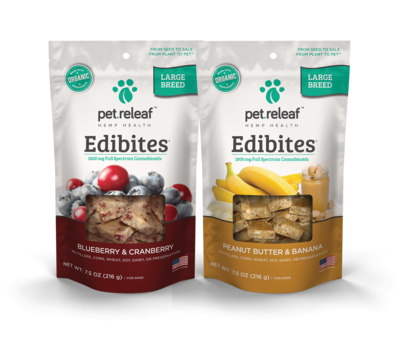 .