Pet Releaf CBD Capsules

CBD hemp oil capsules:
Our CBD hemp oil capsules are intended for medium to large breed dogs. Each capsule contains 15mg of Active CBD and 85mg of full spectrum cannabinoids. They are also 100% vegan. We developed our capsules in order to offer a different option for pets who may have difficulty taking our oil in liquid form.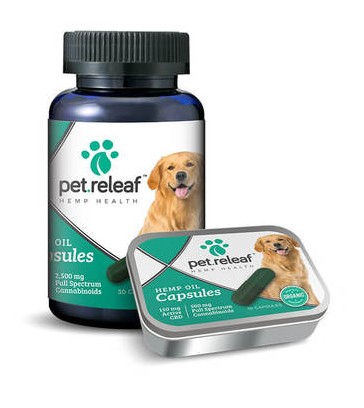 About Our Certified USDA Organic CBD Hemp Oil:

Our full spectrum certified USDA organic CBD hemp oil, is extracted from our proprietary strain of hemp, PR-33. PR-33 is grown at our joint-venture certified USDA organic hemp farm in eastern Colorado and was selected because it's cannabinoid profile was the most optimal for pets.

In order for CBD products to be as beneficial as possible, every cannabinoid naturally found in the hemp plant must be present, THC included. This is because all of the cannabinoids in the hemp plant work together in what is called the "entourage effect".

This is why Pet Releaf never uses CBD isolate! CBD on its own, loses the majority if it's medicinal benefits. The PR-33 strain is extremely high in the beneficial cannabinoid CBD and extremely low in THC to an almost undetectable level of 0.1%. PR-33 is a proprietary strain and will only ever be found in Pet Releaf products. We extract our CBD hemp oil using a super critical CO2 method, meaning we only use pressurized air to remove the CBD from the plant and never use any toxic solvents or chemicals. We use the flowers, leaves, and some seeds so that our products contain the full spectrum CBD that is extracted from the plant as well as the protein benefits of the seeds.



Other Ingredients found in Pet Releaf CBD Hemp Oil Capsules:

Our certified USDA organic CBD hemp oil capsules contain only two ingredients: our organic CBD hemp oil and organic coconut oil. We also proudly only use organic vegan capsules. We never use gelatin capsules
.